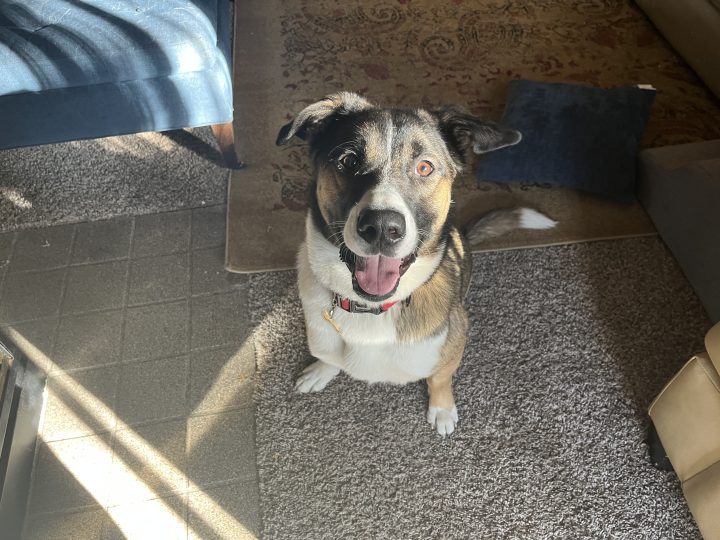 Who is this pretty puppy?
Cora is a young pup. As I'm writing this she is barely a year old. In June 2023 someone saw her limping around downtown Reno, NV, and called the city animal control to come pick her up. She was picked up, processed, and then sent to the Nevada Humane Society. The NHS is the only no-kill shelter in Nevada and they started treatment for her in mid-June. X-rays revealed serious fractures.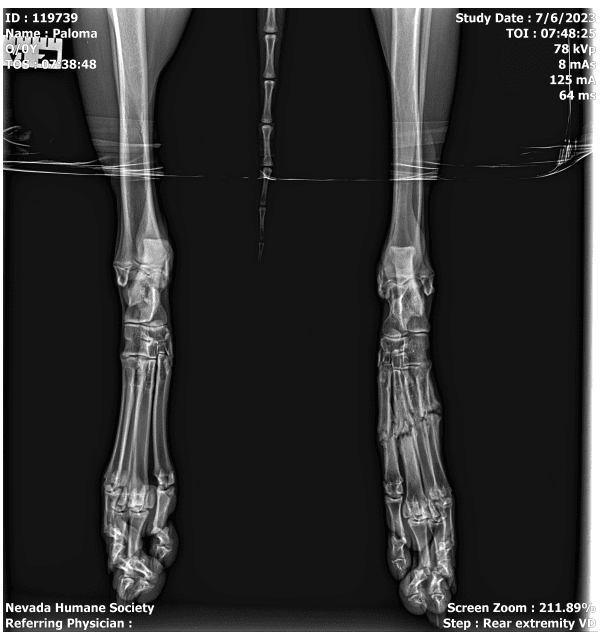 Where do I come in?
I began fostering her a couple weeks later while she was in the early stages of recovery. She had "slipped" out of her splint while in her kennel at the Humane Society multiple times and they didn't have the time to give her the proper crate training, affection, and attention that she needed during this difficult time. I noticed immediately that she had very negative associations with her crate and panicked intensely whenever she had to go inside. But, the vets at the Humane Society insisted that she needed to be in her crate at all times aside from quick potty breaks outside. Thus began my journey of cleaning up her crate, washing towels, and cleaning mess out of her fur whenever I got home from work.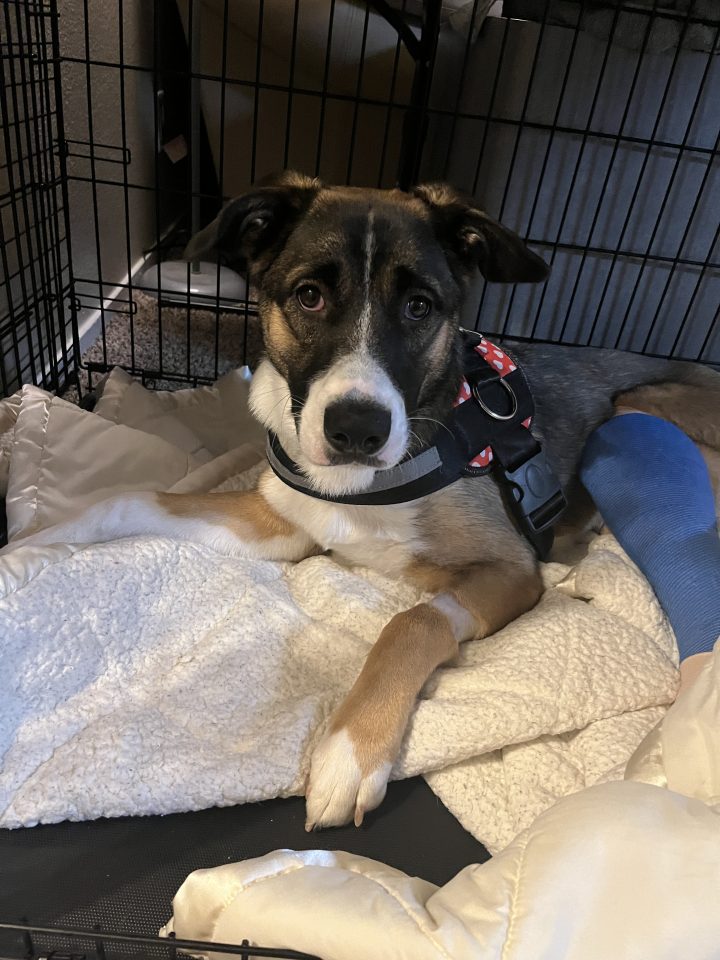 How did crate training go?
It went terribly. She has gotten much better since I began fostering her, but that initial month or two was very stressful. All the guides and trainers say it's best to train dogs once they get all of their energy out and are tired. Even then it can take months to fully crate train a dog. Unfortunately for Cora, we couldn't go on any long walks, runs, or get her zoomies out. And we didn't have months to work with if we were going to save her leg. The medicine she was on for anxiety and to help her sleep hardly affected her even with the vets constantly increasing her dosage. But over time and with lots of treats she stopped soiling herself in the crate and having panic attacks when I left the room. But by that point she had already broken in half 3 of the plastic e-collars that the Humane Society had given me, and managed to chew, bite, and wriggle her way out of her splint 4 separate times while in her kennel.
These complications kept extending her recovery time period and things began to look grim for a complete recovery. We continued on the same course and Cora and I began to settle into more of a routine at home. She would calm down enough to sleep for most of the day aside from some good cuddles and our frequent, short walks outside.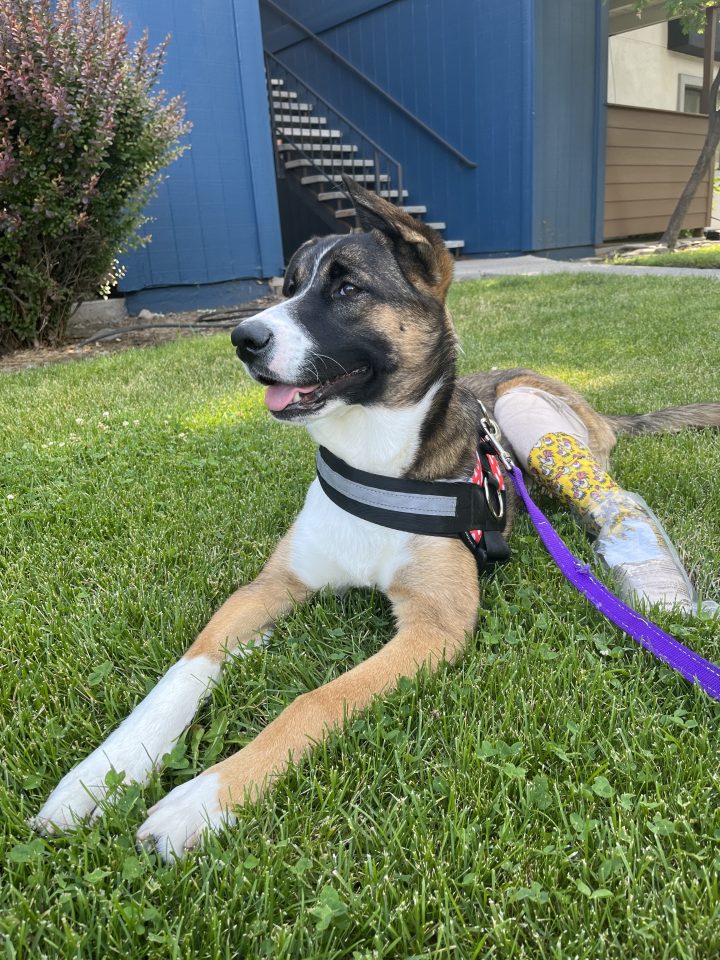 Was she healing at all?
She certainly was! After two months the fractures had mostly healed but she was still in constant pain and had muscle atrophy, dermatitis, pressure sores, and instability at her ankle. She was prescribed antibiotics and I had to keep applying baby powder to keep her foot dry. Oh, and maintain constant kennel rest. We did our best.
What was her behavior like?
After a couple months of kennel rest her behavior started to worsen and she became more and more aggressive. She had always been very playful and affectionate, but she had become so cooped up that she would bite my hands and tear at the clothes I was wearing. Whenever we'd see another dog during our walks she would bark and lunge at them until they got out of sight. She was becoming unmanageable and we still weren't able to get out any of her energy in a healthy way. Our games of tug of war in my living room did little to alleviate her stress and anxiety.
Why did she have to get her leg amputated?
Well, after three months the vets at the Humane Society determined that the fractures she had sustained to her left foot had healed. Unfortunately, her paw didn't heal perfectly and her gait was very awkward and she would hyperextend her left ankle whenever she put pressure on her left leg. This was evidence of ligament damage and would cause her arthritis and pain for the rest of her life. The Humane Society said amputation would be the best course of action for Cora. So, we went through with the procedure and since then she has been better than ever! She has calmed down and sleeps more now during the day than when she was on trazadone and gabapentin twice a day. Apparently being in constant pain and discomfort for months makes it difficult to get some shut eye. Who knew?
Did I have second thoughts about keeping her?
Absolutely. I was only fostering her initially and would go back and forth on whether or not she was the right dog for me. I could tell how sweet she was and that she was a quick learner. When giving her medicine and pill pockets we worked up to her being able to give me both paws, sit, lie down, stay, and come. It may not sound like much but it was a lot to me, especially for a dog who couldn't get out any of her excess energy. Still, I decided to wait to see how she acted post-operation to make my decision.
How did her surgery go?
It went great! She was obsessed with the amputation wound for awhile, but she had already been in an e-collar for the previous three months so I kept her in that while healing and she hasn't had any other complications as a result of her procedure. Also, her behavior has drastically improved and aside from a few playful nips she hasn't bitten me or tugged at my clothes. I feel like I have been given a brand new dog!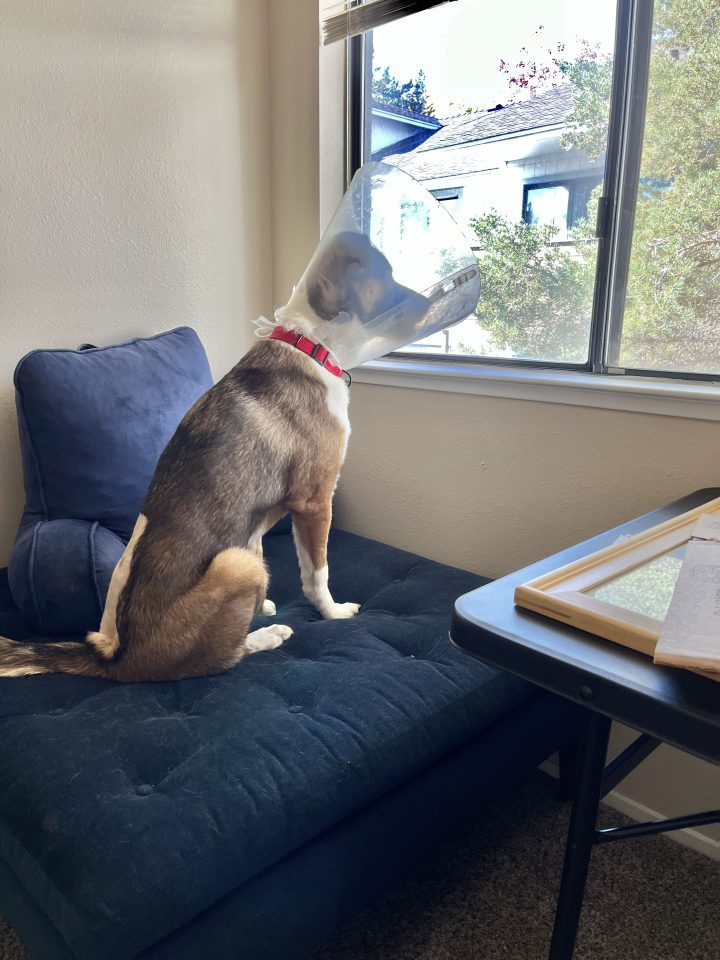 How is she doing now?
Cora had her amputation surgery on October 2nd, so it's almost been a month since her procedure and she is doing better than ever. Fortunately, I found this community before her procedure and read up on some of the success stories you all have shared. This community is truly a blessing. I officially adopted her October 10th and I haven't looked back. We went on our first hike together a couple days ago!